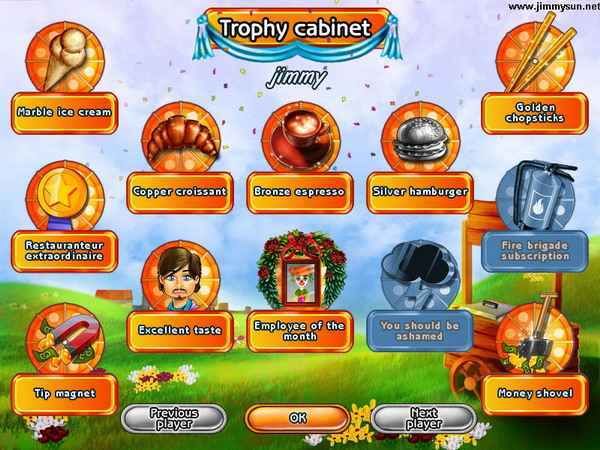 Game ini modelnya sama dengan Diner Dash dan Cake Mania. Kita mengelola restoran, menerima pesanan satu per satu dari customer, dan kita harus bisa memenuhi pesanan mereka sebelum mereka marah dan meninggalkan restoran kita. Semakin mereka senang, semakin besar tip yang kita dapatkan.
Bedanya dengan Diner Dash, di sini kita tidak bisa meng-upgrade peralatan kita (sepatu, kompor dll), tapi kita bisa meng-upgrade dekorasi restoran kita supaya lebih menarik dan makin banyak pelanggan datang. Kita juga bisa menghibur pelanggan yang sudah mulai ngambek dengan menyuruh teman kita menghibur mereka.
Mode game nya ada 2: Antonio's Restaurant dan The Happy Customer. Di Antonio's Restaurant ada 5 level, dan di The Happy Customer kita ditantang untuk selama mungkin buka restoran sampai ada 3 pelanggan yang ngambek dan kabur.
Ini award-award yang telah saya dapat (lihat screenshot di atas):
Marble Ice Cream – Complete all days in the park (level 1)
Copper croissant – Complete all days in the bistro (level 2)
Bronze Espresso – Complete all days in the Italian restaurant (level 3)
Silver Hamburger – Complete all days in the cafetaria (level 4)
Golden Chopsticks – Complete all days in the sushi bar (level 5)
Restauranteur Extraordinaire – Mendapatkan expert score setiap hari 😀
Excellent taste – kelima restoran telah didekorasi dengan sempurna 🙂
Employee of the month – untuk mendapatkan award ini perlu mendapatkan minimal 100 pelanggan yang puas
Tip Magnet – dapatkan award ini dengan mendapatkan tips minimal 10.000
Money Shovel – dapatkan skor minimal 6.500 di mode The Happy Customer untuk mendapatkan award ini
Award yang jangan didapat:
You should be ashamed – Anda mendapatkan award ini kalau ada 100 pelanggan yang tidak puas dan kabur dari restoran
Fire brigade subscription – Anda mendapatkan award ini kalau ada 100 kali makanan yang terbakar (telur, hamburger, pizza)
Intinya, game ini asik sekali dan bikin kecanduan dan penasaran. Tapi dasar kebiasaan, karena sekarang sudah tamat, kayaknya gak akan dimainin lagi deh karena tantangannya sudah habis.